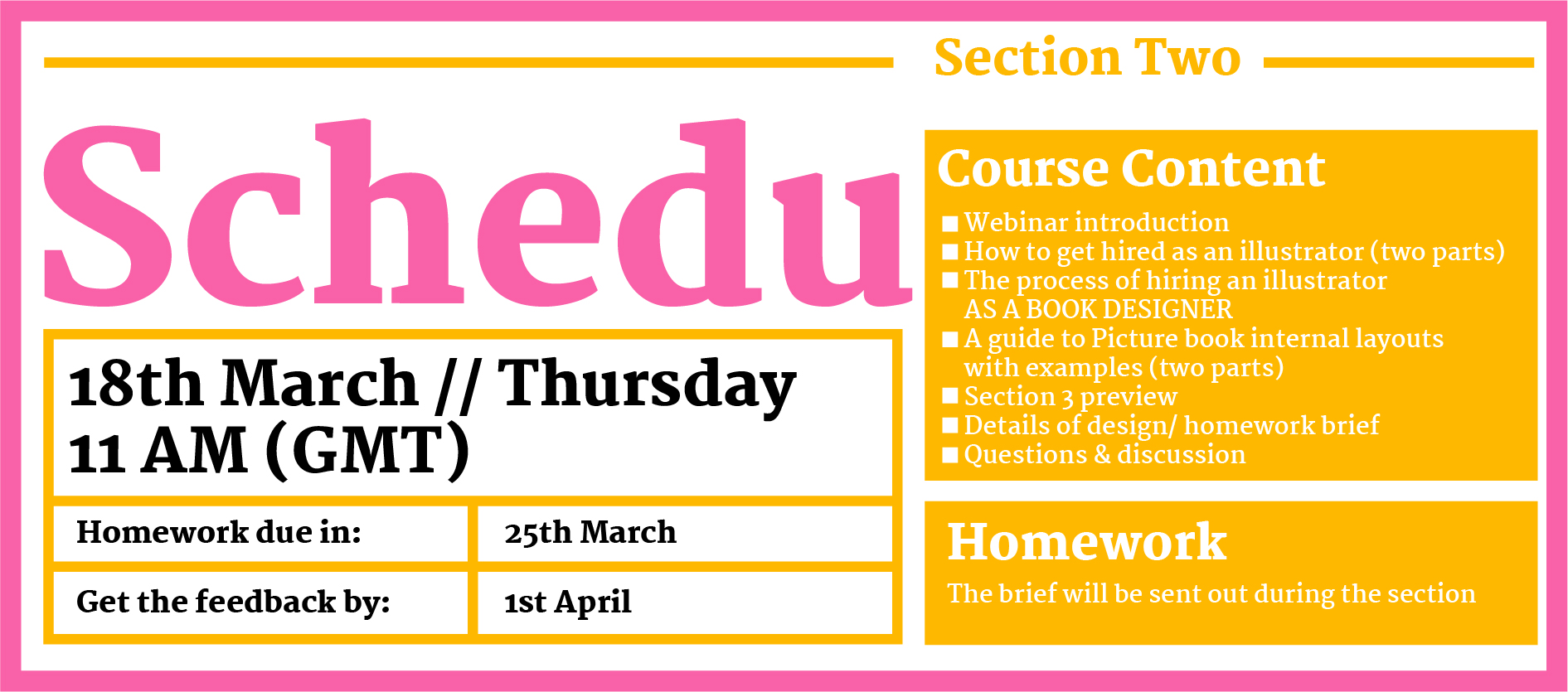 11 - 26.March.2021
---
This course will guide you through the role of Children's Book Designer. From project conception to seeing the finished result in bookshops, we will look at all parts of the process including balancing stakeholders, market positioning, hiring illustrators, printing deadlines and the all important cover design. We will also look at routes into publishing and how to make your design work stand out in a crowded sector.
- Rosaleen Lihou
illustration, publishing, book design
Section One (11.March)content:
Webinar introduction
Project conception - how a book comes to life
Stakeholders and how to balance their needs in your design
Details of three kinds of illustration book trend forecast
Section 2 preview
Details of design/ homework brief
Questions & discussion
---
Section Two (18.March) content:
Webinar introductionHow to get hired as an illustrator (two parts)
The process of hiring an illustrator AS A BOOK DESIGNER
A guide to Picture book internal layouts with examples (two parts)
Section 3 preview
Details of design/ homework brief (about internal layout design)
Questions & discussion
---
Section Three (26.March) content:
Webinar introduction
Designing a successful cover: what works/ themes/ trends
The stages of cover design
Routes into the publishing industry (two parts)
Details of design/ homework brief (about cover design)
Questions & discussion
---
Studying in the UK
Working in the UK
20.March.2021
---
In this webinar, Nga will be sharing tips on applying to the top fashion design courses in the UK, as well as tips on selecting and successfully getting the right design internships for aspiring creatives who wish to study and work in this industry.
- Nga X. Le Pham
fashion, textiles, portfolio training, career guiding
DesignWith is a new community about Arts & Design online education.
-
Live Webinar and 1-2-1 Personalised Course is our core.
Our designers and creative people who have plenty of work experience are dedicated to helping you begin your academic and career life in the creative industry smoothly.
-
We focus on delivering the best learning experiences and guide out arts and design students, graduates and international students who are willing and ready to enter the design industry!
LinkedIn ︎︎
Eventbrite ︎︎
Instagram ︎︎
TheDots ︎︎
-
主要服务:
英国在职设计师线上授课
英国艺术设计类求职辅导和培训
英国艺术设计类留学作品集一对一辅导
-
微信公众号︎︎
搜索:designwith_online
淘宝店铺
︎︎